Shimla Kullu Manali Honeymoon Tour Package from Nagpur
Nagpur to Shimla Kullu Manali Honeymoon Tour Package – All travel specifications
| | |
| --- | --- |
| Destination | Nagpur-Delhi-Shimla-Kullu-Manali-Delhi-Nagpur |
| Duration | 7 Nights / 8 Days |
| Places to visit | The Ridge, Kufri, Fagu, Naldehra, Chail, Solang, Kothi, Rahala falls, Gulaba, Rohtang pass, Kullu Manikaran, Hadimba Temple, Manu Temple, Vasisth Kund |
| Nagpur Flight Pickup & Drop | Dr. Babasaheb Ambedkar International Airport (NAG) |
| Flight Details | Nagpur – Delhi – Nagpur |
| Flight Cost | ₹ 4,000/person |
| Hotel Price | ₹ 2,000/Night (for a couple) |
| Meal Plan | MAP ( Breakfast and Lunch or Dinner) |
| Sightseeing Cost | ₹ 5,000 |
| Tour Package Starting Price | ₹ 12,800/couple |
Nagpur (NAG) to New Delhi (DEL) Flight Time Table

Airlines Name
Flight No.
Departure time
(Nagpur)
Arrival time
(Delhi)
Days
Air India
AI-0470
08:25
10:15
/T/W/F/S
Air India
AI-0469
08:45
10:35
Air India
AI-0470
08:25
10:05
/T/W/F/S
IndiGo
6E-636
07:45
09:35
M/T/W/T/F/S/S
IndiGo
6E-134
12:55
14:40
Sat
IndiGo
6E-134
13:00
14:45
M/T/W/T/F/S
IndiGo
6E-202
19:50
21:35
M/T/W/T/F/S
Jet Airways
9W-653
08:20
10:05
M/T/W/T/F/S/S
Jet Airways
9W-658
17:20
19:05
M/T/W/T/F/S/S

NAGPUR (NGP) to NEW DELHI (NDLS) Trains

| Train | Train Name | Origin | Departure time | Destination | Arrival time | M | T | W | T | F | S | S |
| --- | --- | --- | --- | --- | --- | --- | --- | --- | --- | --- | --- | --- |
| 12803 | Swarnajayanti E | Nagpur | 00:30 | H Nizamuddin | 17:05 | N | Y | N | N | N | Y | N |
| 12643 | Nizamuddin Exp | Nagpur | 00:30 | H Nizamuddin | 17:05 | N | N | N | Y | N | N | N |
| 12645 | Nizamuddin Exp | Nagpur | 00:30 | H Nizamuddin | 17:05 | Y | N | N | N | N | N | N |
| 12641 | Tirukkural Exp | Nagpur | 02:10 | H Nizamuddin | 18:00 | N | N | N | N | Y | N | Y |
| 12651 | Sampark Kranti | Nagpur | 02:10 | H Nizamuddin | 18:00 | Y | N | Y | N | N | N | N |
| 12707 | A P Smprk Krnti | Nagpur | 02:10 | H Nizamuddin | 18:00 | N | Y | N | Y | N | Y | N |
| 16031 | Chennai Central Andama… | Nagpur | 02:45 | Shakurbasti | 00:43 | Y | N | N | Y | Y | N | N |
| 06687 | Ten Jammu Exp | Nagpur | 02:55 | Shakurbasti | 00:41 | N | N | Y | N | N | N | N |
| 06317 | Ten Jammu Exp | Nagpur | 02:55 | Shakurbasti | 00:41 | N | N | N | N | N | N | Y |
| 16687 | Mangalore central Navy… | Nagpur | 02:55 | Shakurbasti | 00:43 | N | N | Y | N | N | N | N |
S
himla and Manali are destination which leaves a deep impact on your minds and hearts. These two destinations has some alluring which can leave you dumb struck. Starting with Shimla it is the undisputed Queen of the Hills in India. Embedded by beautiful 7 hills this place is some place which can give you Goosebumps. Nearby Shimla there are many beautiful destinations which can be visited for sure. The list includes Naldhera, Chail, Kufri and many other places.
The most happening place in Shimla is the Ridge. It is the heart of the city. All the major cultural events are held in the Ridge. It is basically a wide road with a lively atmosphere. Shimla Kullu Manali Honeymoon Package from Nagpur is up for grabs and can be booked anytime you wish. So do not miss out on the opportunity and grab the best offers available. Coming to Manali, the hub of temples, it is home many temples and every temple and every temple has something or the other to offer you. These two destinations make a deadly combination and are on the top of the list of best destinations in India.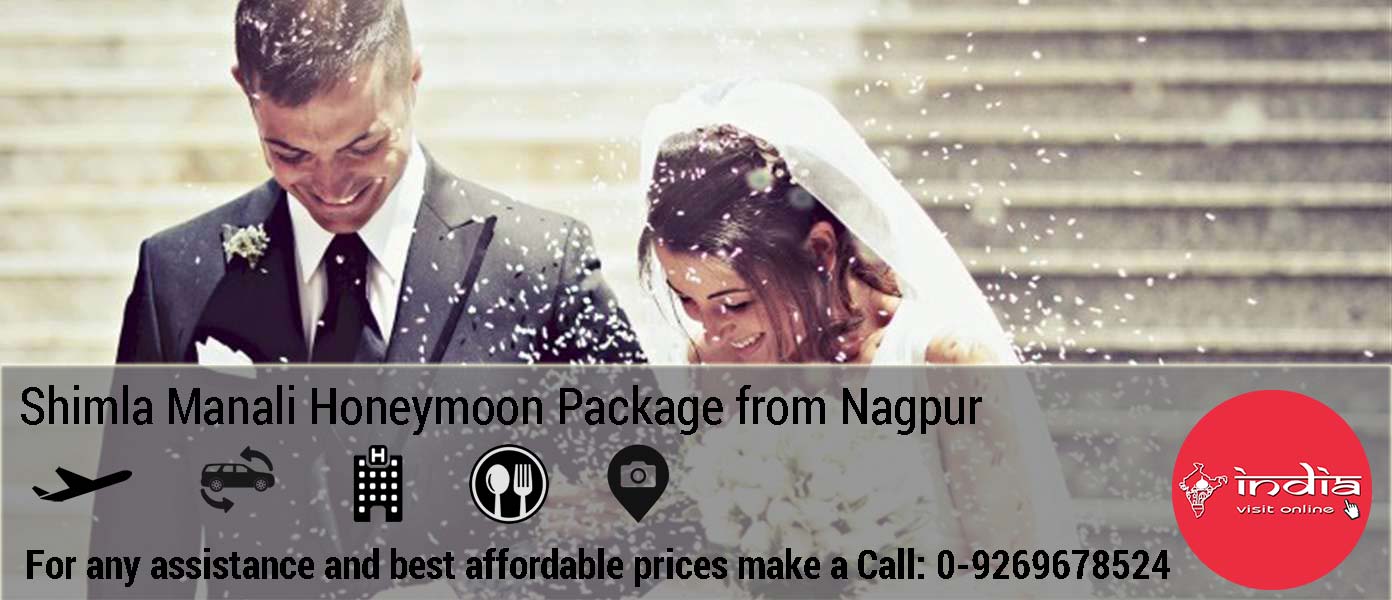 The pollution is also very less in these two cities which makes it more beautiful. Kullu is a place at stones throw distance from Manali. It is home to rich flora and fauna. The there is Manikaran a holy place for both Sikhs and Hindus So visit these place at the earliest and experience the magic they offer you.
Fill out this form and receive special offers for Himachal, Kerala or Goa Holidays.