Shimla Kullu Manali Honeymoon Packages from Hyderabad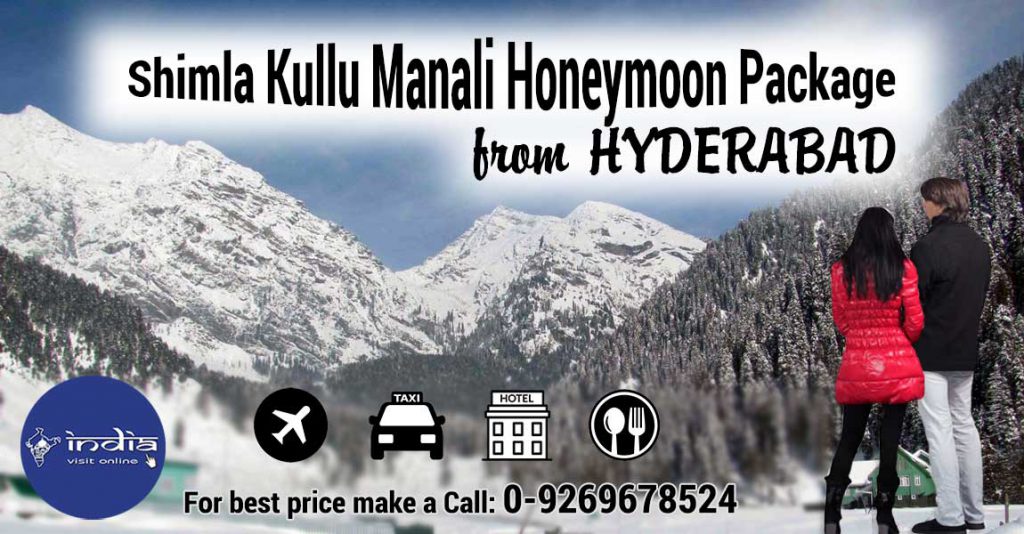 Hyderabad to Shimla Manali Honeymoon Packages – All travel specifications
| | |
| --- | --- |
| Destination | Hyderabad-Delhi-Shimla-Kullu-Manali-Delhi-Hyderabad |
| Duration | 7 Nights / 8 Days |
| Places to visit | The Ridge, Kufri, Fagu, Naldehra, Chail, Solang, Kothi, Rahala falls, Gulaba, Rohtang pass, Kullu Manikaran, Hadimba Temple, Manu Temple, Vasisth Kund |
| Flight Pickup & Drop | Rajiv Gandhi International Airport (HYD) |
| Flight Details | Hyderabad – Delhi – Hyderabad |
| Flight Cost | ₹ 2,500/person |
| Hotel Price | ₹ 2,000/Night (for a couple) |
| Meal Plan | MAP ( Breakfast and Lunch or Dinner) |
| Sightseeing Cost | ₹ 5,000 |
| Tour Package Starting Price | ₹ 14,900/couple |
Hyderabad (HYD) to Chandigarh (IXC) Flight Time Table

Airlines Name
Flight No.
Departure time
(Hyderabad)
Arrival time
(Chandigarh)
Days
IndiGo
6E-269
11:00
13:40
M/T/W/T/F/S/S
Vistara
UK-0830
09:55
14:50
M/T/W/T/F/S/S

Hyderabad (HYD) to New Delhi (DEL) Flight Time Table

Airlines Name
Flight No.
Departure time
(Hyderabad)
Arrival time
(Delhi)
Days
Air India
AI-0127
21:00
23:10
M/T/W/T/F/S/S
Air India
AI-0840
19:05
21:20
M/T/W/T/F/S/S
Air India
AI-0543
10:00
12:15
M/T/W/T/F/S/S
Air India
AI-0559
06:40
09:00
M/T/W/T/F/S/S
Air India
AI-0541
16:10
18:30
M/T/W/T/F/S/S
GoAir
G8-424
10:20
12:40
M/T/W/T/F/S/S
GoAir
G8-421
05:35
07:55
M/T/W/T/F/S/S
GoAir
G8-426
23:00
01:20*
M/T/W/T/F/S/S
IndiGo
6E-595
18:15
20:35
M/T/W/T/F/S/S
IndiGo
6E-308
04:35
06:45
M/T/W/T/F/S/S
IndiGo
6E-864
19:30
21:55
M/T/W/F/S/S
IndiGo
6E-564
21:10
23:30
M/T/W/T/F/S/S
IndiGo
6E-6685
16:00
18:25
M/T/W/T/F/S
IndiGo
6E-6685
16:00
18:15
Sat
IndiGo
6E-6458
14:50
17:10
M/T/W/T/F/S/S
IndiGo
6E-738
05:25
07:45
M/T/W/T/F/S/S
IndiGo
6E-846
07:40
10:00
M/T/W/T/F/S/S
IndiGo
6E-766
23:30
01:50*
M/T/W/T/F/S/S
IndiGo
6E-6966
10:15
12:45
M/T/W/T/F/S/S
IndiGo
6E-845
11:50
14:10
M/T/W/T/F/S/S
Jet Airways
9W-767
16:40
19:05
M/T/W/T/F/S/S
Jet Airways
9W-644
07:25
09:45
M/T/W/T/F/S/S
SpiceJet
SG-126
21:25
23:40
M/T/W/T/F/S/S
SpiceJet
SG-124
12:50
15:10
M/T/W/T/F/S/S
Vistara
UK-0858
17:50
20:05
M/T/W/T/F/S/S
Vistara
UK-0870
20:30
22:45
M/T/W/T/F/S/S
Vistara
UK-0830
09:55
12:25
M/T/W/T/F/S

Hyderabad (HYB) to Delhi (NDLS) Trains

| | | | | | | | | | | | | |
| --- | --- | --- | --- | --- | --- | --- | --- | --- | --- | --- | --- | --- |
| Train | Train Name | Origin | Departure time | Destination | Arrival time | M | T | W | T | F | S | S |
| 12723 | A P Exp | Hyderabad Decan | 6:25 | New Delhi | 9:05 | Y | Y | Y | Y | Y | Y | Y |
| 12493 | Rajdhani Exp | Secunderabad Jn | 7:50 | H Nizamuddin | 5:50 | N | N | Y | N | N | Y | Y |
| 12429 | Lko Ndls Raj | Secunderabad Jn | 7:50 | H Nizamuddin | 5:50 | Y | Y | N | Y | Y | N | N |
| 22693 | Bangalore City Rajdhani Exp | Secunderabad Jn | 7:50 | H Nizamuddin | 5:50 | N | N | Y | N | N | Y | Y |
| 12649 | Sampark Kranti | Kacheguda | 8:35 | H Nizamuddin | 9:15 | Y | Y | N | Y | N | Y | Y |
| 7137 | Hyb Fzr Spl | Hyderabad Decan | 10:15 | Shakurbasti | 17:30 | N | Y | N | N | N | N | N |
| 12647 | Kongu Express | Kacheguda | 10:45 | H Nizamuddin | 14:15 | Y | N | N | N | N | N | N |
| 12437 | Rajdhani Exp | Secunderabad Jn | 12:45 | H Nizamuddin | 10:20 | N | N | Y | N | N | N | N |
| 12285 | Nzm Duronto Ex | Secunderabad Jn | 13:30 | H Nizamuddin | 10:35 | N | N | N | Y | N | N | Y |
| 12707 | A P Smprk Krnti | Kacheguda | 16:50 | H Nizamuddin | 18:00 | Y | N | Y | N | Y | N | N |
| 12721 | Nizamuddin Exp | Hyderabad Decan | 22:30 | H Nizamuddin | 4:00 | Y | Y | Y | Y | Y | Y | Y |

Hyderabad To Shimla Manali by Road

There are not any direct Airways / Trains or Bus transport available between Hyderabad and Shimla Manali. The best way to travel from Hyderabad to Shimla/Manali is travelling by train from Hyderabad to Delhi/Chandigarh and there continue travel to Manali by State Transport bus or hired Indica AC/Non-AC car.
Here are two best ways to reach Hyderabad to Manali by National Highway road via Delhi.

via NH 7 (This route has tolls) : The driving distance between Hyderabad, Telangana to Manali, Himachal Pradesh by this route is approx 2,085 km, and travel time from this road route is 34 min with traffic and 32 h without traffic.
via NH 79 (This route has tolls) : The driving distance between Hyderabad to Manali by this route is approx 2,257 km, and travel time from this road route is 38 h with traffic and 36 h without traffic.

Get the exact Hyderabad-Manali road route map with distance, directions and time view here
A
honeymoon trip is important for every newly married couple for relaxing, after all the wedding ceremonies stress. And when it comes to relax, which can be a better place to relax than the mountain resorts of Shimla Manali in Himachal Pradesh. Want to explore honeymooners paradise Kullu Manali Shimla. Before you plan your Manali Honeymoon Packages from Hyderabad, please have a quick-look at best Shimla Manali honeymoon packages here.
To make honeymoon memorable for a lifetime newlywed couples, and honeymooners from Hyderabad, firstly and mostly want to visit Kullu Manali. Therefore, whether your honeymoon week-long or a single day honeymooning in these gorgeous hill stations will definitely give you some of the most magical moments that love you for your entire life.
Kullu Manali remain spell bound with the splendor of its unending spiral nature, the broad valley is just magical and loves to every bit of it. The majority of our honeymoon packages offer cheap and best hotels in kullu manali, of course on the basis of required and necessity, though Manali hotels are always a better option.
For capturing the spirit mired and bring some life again in, there are some places to visit Kullu Manali, that will occupy primarily on that list. It"s visit to these places and capture a living from close to nature which makes the tough times in life that run slightly easier.
So start packing and be prepared or plan a Shimla Kullu Manali Honeymoon package from Hyderabad to browse this beautiful land of Himachal, since it allows a newly married couple to approach one another and exploring the true love in your relationship. Honeymoon packages online in India indeed will be responsible for all of your needs so that your attention is focused on fun. Dial your honeymooning with gold dye as having your package. Our best suggested itineraries can also assist you plan your trip yourself to get bespoke or customized as per your requirement and need.
Fill out this form and receive special offers for Himachal, Kerala or Goa Holidays.