Kerala tour package from Bangalore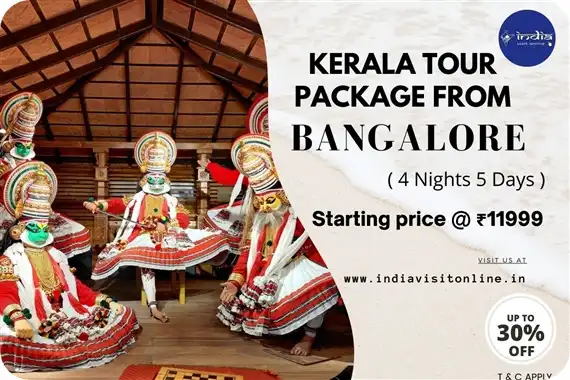 Here are ten best tour package for Kerala from Bangalore:
| | | | |
| --- | --- | --- | --- |
| Kerala tour packages from Bangalore | Night/Day | Inclusions | Price per person |
| Discover the Beauty of Kerala | 3 Nights 4 Days | Hotel Stay,  Journey, Sightseeing | ₹12,900 |
| Kerala Backwaters and Beaches Adventure | 4 Nights 5 Days | Hotel Stay,  Journey, Sightseeing | ₹14,500 |
| Kerala Culinary and Culture Tour | 5 Nights 6 Days | Hotel Stay,  Journey, Sightseeing | ₹16,000 |
| Kerala Hill Station Escapade | 6 Nights 7 Days | Hotel Stay,  Journey, Sightseeing | ₹18,500 |
| The Ultimate Kerala Wildlife Experience | 7 Nights 8 Days | Hotel Stay,  Journey, Sightseeing | ₹20,000 |
| Kerala Adventure and Relaxation Tour | 8 Nights 9 Days | Hotel Stay,  Journey, Sightseeing | ₹23,000 |
| Kerala Eco-Tourism Experience | 9 Nights 10 Days | Hotel Stay,  Journey, Sightseeing | ₹25,500 |
Kerala tour package from Bangalore: itinerary
Day 1: Bangalore to Kochi and transfer to Munnar
When you reach the airport or railway station in Cochin, you will meet an agent. He will further guide you and make arrangements so you will be moved towards Munnar.
Once you reach the hotel, you will check in. From there, if you want, you can move out and visit nearby places. Or else you can rest for a while. Till midday, you can enjoy trekking on one of the famous hills in Munnar.
The night will be spent in a hotel with amazing, delectable food.
Day 2: Sightseeing in Munnar
Following breakfast, you will be treated to panoramic views of the Attukad and Lakkom waterfalls.
Following that, you will visit the Tata Tea Plantation. There, you will get a glimpse of processing. That is how tea is made, from the raw material to the finished product. You can also purchase tea here as a souvenir of your visit here.Further, you will move towards the Eravikulam National Park and observe the wildlife.
Relish your evening with a dazed view of Munnar at Mattuppetty Dam at the end of the day, if time allows. Visit the dairy farm located in a nearby area.
Day 3: Thekkady trip
The third day of your Kerala tour package from Bangalore brings lots of thrilling experiences. Therefore, after having your morning meal, you will be heading towards Thekkady.
It is also known as the Periyar. Assemble your bags so that you can reach your next destination. After that, check in to the hotel and visit the Periyar National Park. This way, your morning will begin in the greenery.Also, you can visit a man-made lake. It is famous because it is one of a kind. Most importantly, experience well-known bamboo rafting.
End your day by visiting Kumily Hills.
Day 4: Alleppey trip
Kickstart your day with the special dish at breakfast. You will also be taken to popular tourist destinations in Kerala.
The Allegheny tour, according to visitors, is incomplete without a houseboat ride. Therefore, avail all the happiness of a houseboat ride at Kuttanad and Vembanad Lakes. Start your backwater cruise with delicious food. Also, you will be amazed to know that these houseboats have almost all the facilities. It is fully furnished, for example, with a room that includes a bed and a bathroom.
There is also a kitchen with the best chefs in Kerala. He is there to provide food.
Day 5: Alleppey to Kochi departure
On your last day of your tour, you will visit a beach. Before having breakfast, move towards exploring this charming place.
There, you can spend some leisure time. With tasty coconut water in the shade of a coconut tree, it is a mind-blowing experience. Further, if there is enough time, you will visit some of the very famous temples. After that, have your last lunch in Kerala. The time has come to say good-bye to all.
At the end of your Kerala tour, you will have lots of unforgettable memories. Enjoy them during your journey to your hometown.
Inclusions:
Transfer from Kochi Airport or Cochin Railway Station
Transportation with air conditioning
Accommodation in a twin-sharing room with private facilities, as described.
Breakfast on the houseboat or at the hotel is complimentary.
Private cabs or cars are used for all sightseeing tours.
Minerals bottled water while sightseeing (1 bottle per day)
All airport/train station transfers are in a private, air-conditioned vehicle.
All taxes applicable
Exclusions:
Any train or plane ticket
Lunch and dinner are optional
Mealtime beverages
Any personal costs (shopping or activities)
Any optional excursions
Charges for guidance
Entrance fees or parking when visiting places
Any services not expressly stated in the package
Terms & Condition:
The tour requires a minimum of two adults to participate.
Singles are subject to a 50% surcharge.
Children under the age of five are admitted for free, while those aged 12 and up pay half price.
Our package rates are very reasonable, which means there are no surprises.
Payment by credit card is required, with a 2% surcharge.
Make your reservation at least 5 days in advance (hotel availability will be checked for current bookings).
If none of the listed hotels are available, alternative accommodation in a similar-level hotel will be arranged.
Any damage to the hotel's rooms that occurs during your stay will be borne by the tourist in question.
Where applicable, Goods and Services Tax (GST) is added.
How to reach Kerala from Bangalore?
The best way to reach Kerala depends on your location and personal preferences.
By Air: Kerala has several airports, including Trivandrum International Airport, Cochin International Airport, and Calicut International Airport. These airports are well connected to major cities in India and abroad, making it easy to reach Kerala by air.
By Train: Kerala is well connected to the rest of India by rail. There are several trains that run to different parts of the state, including the Rajdhani Express, which connects Thiruvananthapuram to New Delhi, and the Konkan Kanya Express, which connects Mumbai to Mangalore via Kerala.
By Bus: Kerala State Road Transport Corporation (KSRTC) operates buses to different parts of the state from major cities in South India. The buses are comfortable and reliable, but the journey can take longer than by train or flight.
By Car: Kerala is well connected by road, and it is possible to reach the state by car from other parts of South India. However, the journey can be long and tiring, and the roads may not always be in the best condition.
Ultimately, the best way to reach Kerala will depend on your personal preferences and budget. If time is not a constraint, then the train is considered to be the best way to reach Kerala. Also, if budget is a concern, then taking bus is the best option.
What to do in Kerala tour package from Bangalore?
When visiting Kerala from Bangalore, there are many things to do and see. Some popular options include:
Backwaters: Kerala is famous for its backwaters, which are a network of canals and lagoons that run parallel to the Arabian Sea coast. You can take a houseboat tour to explore the backwaters and enjoy the picturesque scenery.
Beaches: Kerala has some beautiful beaches such as Varkala, Kovalam, and Marari.
Hill stations: Kerala is home to several hill stations such as Munnar, Wayanad, and Thekkady, which offer a refreshing break from the heat and a chance to explore tea plantations and natural beauty.
Ayurveda: Kerala is known for its Ayurvedic treatments and massages, which are based on traditional Indian medicine. You can book a massage or treatment at one of the many Ayurvedic centers in the state.
Wildlife Sanctuaries: Kerala is home to several wildlife sanctuaries such as Periyar National Park and Silent Valley National Park, which are home to a wide variety of animals and birds.
Temple and Church: Kerala is home to many ancient temples and churches. Some popular ones include the Sri Padmanabhaswamy Temple in Trivandrum and St. Francis Church in Fort Kochi.
People mostly ask FAQs about the Kerala tour package from Bangalore
Q. What are the best Kerala tour packages?
A: The best Kerala tour packages depend on individual preferences, budget, and travel dates. Some popular packages include: Kerala Backwaters, Kerala Beaches, Kerala Hill Stations, Kerala Culture and Heritage, and Kerala Wildlife, Kerala Eco-Tourism and Nature.
Q. How much does a Kerala tour package cost?
A: The cost of a Kerala tour package varies based on the duration of the tour, the places included, and the type of accommodation and transportation. On average, 5 days package can cost between 15000 to 25000 per person.
Q. What are the must-visit places in Kerala?
A: The must-visit places in Kerala include: Alleppey Backwaters, Munnar Hill Station, Wayanad, Thekkady Wildlife Sanctuary, Kumarakom Backwaters, Fort Kochi, Marari Beach, and Varkala Beach.
Q. What is the best time to visit Kerala?
A: The best time to visit Kerala is from September to February during the cooler months. The monsoon season from June to August is also a good time to visit, especially for those interested in visiting the backwaters.
Q. What is included in a Kerala tour package?
A: Kerala tour packages include transportation, accommodation, meals, sightseeing, and activities. Some packages also include cultural experiences, such as traditional dance performances and cooking classes.
Q. Is it possible to customize a Kerala tour package?
A: Yes, it is possible to customize a Kerala tour package according to individual preferences. Our travel agents can create a custom itinerary that includes the places you want to visit and activities you want to do.
Q. What are the modes of transportation provided in a Kerala tour package?
A: The modes of transportation provided in a Kerala tour package depend on the tour operator, but mostly include a private car or minivan, with a driver. Our tour packages also offer boat rides to explore the backwaters.
Q. What kind of accommodation options are included in a Kerala tour package?
A: Kerala tour packages offer a variety of accommodation options, including hotels, resorts, homestays, and houseboats. The type of accommodation depends on the tour operator and the budget of the tour.
Q. Can you arrange a Kerala tour package for a family with children?
A: Yes, Kerala tour packages can be arranged for families with children. Kerala tour operator can provide child-friendly accommodation and activities, such as theme parks and wildlife sanctuaries, to keep the children entertained.
Q. Are there any cultural experiences included in the Kerala tour packages?
A: Yes, some Kerala tour packages include cultural experiences, such as traditional dance performances, cooking classes, and visits to cultural and heritage sites. These experiences offer a unique insight into the rich culture and history of Kerala.
Similer Kerala tour packages from other top Indian cities
Our Kerala tour packages from Bangalore offer a unique and personalized experience for travelers. Choose from a variety of one-day to ten days trip options, or opt for a three-day package to fully immerse yourself in the beauty of Kerala. Our packages are designed and operated by local tour operators in Kochi, ensuring a authentic and customized itinerary. Whether you are looking for a relaxing beach holiday, cultural exploration or adventure, our Kerala packages have something for everyone. Experience the best of Kerala with our comprehensive tour packages.
Get the best Kerala tour package from Bangalore