Kerala tour packages from Bangalore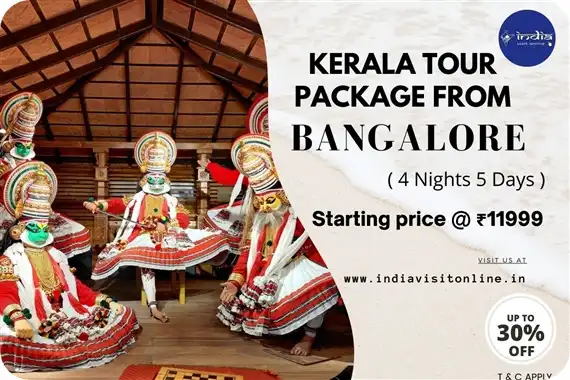 Most recommended Kerala tour packages from Bangalore with price
Package Name
Duration
Price (per person)
Destinations
Inclusions
Hotel Type
Kerala Backwaters Bliss from Bangalore
2 nights 3 days
₹ 12,599
Kochi, Alleppey
Breakfast, Dinner, Hotel Stay, Backwater Cruise
Deluxe Houseboats
Book Now
Cultural Treasures of Kerala tour from Bangalore
3 nights 4 days
₹ 15,699
Kochi, Thrissur, Trivandrum
Breakfast, Dinner, Hotel Stay, Cultural Performances
Heritage Homestays
Book Now
Kerala Beach Retreat from Bangalore
4 nights 5 days
₹ 18,749
Kochi, Kovalam, Varkala, Alleppey
Breakfast, Dinner, Hotel Stay, Beach Excursions
Beachfront Resorts
Book Now
Enchanting Kerala Family Escape from Bangalore
5 nights 6 days
₹ 20,999
Cochin, Munnar, Thekkady, Alleppey
Breakfast, Dinner, Hotel Stay, Sightseeing
3-Star Hotels
Book Now
Kerala Wildlife Adventure Tour from Bangalore
6 nights 7 days
₹ 24,449
Kochi, Munnar, Thekkady, Wayanad
Breakfast, Dinner, Hotel Stay, Wildlife Safaris
Eco-friendly Resorts
Book Now
Serene Kerala Honeymoon Trip from Bangalore
7 nights 8 days
₹ 26,749
Kochi, Munnar, Alleppey, Thekkady, Kovalam
Breakfast, Dinner, Hotel Stay, Romantic Experiences
Boutique Hotels
Book Now
Kerala Hill Stations and Spice Trail from Bangalore
8 nights 9 days
₹ 30,499
Kochi, Munnar, Alleppey, Thekkady, Wayanad
Breakfast, Dinner, Hotel Stay, Spice Plantation Tour
Mid-range Resorts
Book Now
Best Adventure in Kerala from Bangalore
9 nights 10 days
₹ 32,949
Kochi, Alleppey, Kovalam, Munnar, Vagamon, Wayanad
Breakfast, Dinner, Hotel Stay, Trekking and Adventure
Nature Camps
Book Now
Kerala Ayurveda Retreat from Bangalore
10 nights 11 days
₹ 36,549
Kochi, Alleppey, Trivandrum, Kovalam, Palakkad
Breakfast, Dinner, Ayurvedic Spa, Yoga Sessions
Ayurvedic Resorts
Book Now
Exotic Kerala Honeymoon Tour from Bangalore
11 nights 12 days
₹ 39,049
Kochi, Munnar, Alleppey, Kumarakom, Thekkady, Varkala
Breakfast, Dinner, Houseboat Stay, Scenic Cruises
Houseboats
Book Now
Kerala Hill Station, Backwaters and Beach Delight from Bangalore
12 nights 13 days
₹ 42,699
Kochi, Munnar, Alleppey, Kumarakom, Thekkady, Kovalam, Varkala
Breakfast, Dinner, Hotel Stay, Family-Friendly Activities
Family Resorts
Book Now
Kerala tour package from Bangalore: itinerary
Day 1: Bangalore to Kochi and transfer to Munnar
When you reach the airport or railway station in Cochin, you will meet an agent. He will further guide you and make arrangements so you will be moved towards Munnar.
Once you reach the hotel, you will check in. From there, if you want, you can move out and visit nearby places. Or else you can rest for a while. Till midday, you can enjoy trekking on one of the famous hills in Munnar.
The night will be spent in a hotel with amazing, delectable food.
Day 2: Sightseeing in Munnar
Following breakfast, you will be treated to panoramic views of the Attukad and Lakkom waterfalls.
Following that, you will visit the Tata Tea Plantation. There, you will get a glimpse of processing. That is how tea is made, from the raw material to the finished product. You can also purchase tea here as a souvenir of your visit here.Further, you will move towards the Eravikulam National Park and observe the wildlife.
Relish your evening with a dazed view of Munnar at Mattuppetty Dam at the end of the day, if time allows. Visit the dairy farm located in a nearby area.
Day 3: Thekkady trip
The third day of your Kerala tour package from Bangalore brings lots of thrilling experiences. Therefore, after having your morning meal, you will be heading towards Thekkady.
It is also known as the Periyar. Assemble your bags so that you can reach your next destination. After that, check in to the hotel and visit the Periyar National Park. This way, your morning will begin in the greenery.Also, you can visit a man-made lake. It is famous because it is one of a kind. Most importantly, experience well-known bamboo rafting.
End your day by visiting Kumily Hills.
Day 4: Alleppey trip
Kickstart your day with the special dish at breakfast. You will also be taken to popular tourist destinations in Kerala.
The Allegheny tour, according to visitors, is incomplete without a houseboat ride. Therefore, avail all the happiness of a houseboat ride at Kuttanad and Vembanad Lakes. Start your backwater cruise with delicious food. Also, you will be amazed to know that these houseboats have almost all the facilities. It is fully furnished, for example, with a room that includes a bed and a bathroom.
There is also a kitchen with the best chefs in Kerala. He is there to provide food.
Day 5: Alleppey to Kochi departure
On your last day of your tour, you will visit a beach. Before having breakfast, move towards exploring this charming place.
There, you can spend some leisure time. With tasty coconut water in the shade of a coconut tree, it is a mind-blowing experience. Further, if there is enough time, you will visit some of the very famous temples. After that, have your last lunch in Kerala. The time has come to say good-bye to all.
At the end of your Kerala tour, you will have lots of unforgettable memories. Enjoy them during your journey to your hometown.
Inclusions:
Transfer from Kochi Airport or Cochin Railway Station
Transportation with air conditioning
Accommodation in a twin-sharing room with private facilities, as described.
Breakfast on the houseboat or at the hotel is complimentary.
Private cabs or cars are used for all sightseeing tours.
Minerals bottled water while sightseeing (1 bottle per day)
All airport/train station transfers are in a private, air-conditioned vehicle.
All taxes applicable
Exclusions:
Any train or plane ticket
Lunch and dinner are optional
Mealtime beverages
Any personal costs (shopping or activities)
Any optional excursions
Charges for guidance
Entrance fees or parking when visiting places
Any services not expressly stated in the package
Terms & Condition:
The tour requires a minimum of two adults to participate.
Singles are subject to a 50% surcharge.
Children under the age of five are admitted for free, while those aged 12 and up pay half price.
Our package rates are very reasonable, which means there are no surprises.
Payment by credit card is required, with a 2% surcharge.
Make your reservation at least 5 days in advance (hotel availability will be checked for current bookings).
If none of the listed hotels are available, alternative accommodation in a similar-level hotel will be arranged.
Any damage to the hotel's rooms that occurs during your stay will be borne by the tourist in question.
Where applicable, Goods and Services Tax (GST) is added.
How to reach Kerala from Bangalore?
The best way to reach Kerala depends on your location and personal preferences.
By Air: Kerala has several airports, including Trivandrum International Airport, Cochin International Airport, and Calicut International Airport. These airports are well connected to major cities in India and abroad, making it easy to reach Kerala by air.
By Train: Kerala is well connected to the rest of India by rail. There are several trains that run to different parts of the state, including the Rajdhani Express, which connects Thiruvananthapuram to New Delhi, and the Konkan Kanya Express, which connects Mumbai to Mangalore via Kerala.
By Bus: Kerala State Road Transport Corporation (KSRTC) operates buses to different parts of the state from major cities in South India. The buses are comfortable and reliable, but the journey can take longer than by train or flight.
By Car: Kerala is well connected by road, and it is possible to reach the state by car from other parts of South India. However, the journey can be long and tiring, and the roads may not always be in the best condition.
Ultimately, the best way to reach Kerala will depend on your personal preferences and budget. If time is not a constraint, then the train is considered to be the best way to reach Kerala. Also, if budget is a concern, then taking bus is the best option.
What to do in Kerala tour package from Bangalore?
When visiting Kerala from Bangalore, there are many things to do and see. Some popular options include:
Backwaters: Kerala is famous for its backwaters, which are a network of canals and lagoons that run parallel to the Arabian Sea coast. You can take a houseboat tour to explore the backwaters and enjoy the picturesque scenery.
Beaches: Kerala has some beautiful beaches such as Varkala, Kovalam, and Marari.
Hill stations: Kerala is home to several hill stations such as Munnar, Wayanad, and Thekkady, which offer a refreshing break from the heat and a chance to explore tea plantations and natural beauty.
Ayurveda: Kerala is known for its Ayurvedic treatments and massages, which are based on traditional Indian medicine. You can book a massage or treatment at one of the many Ayurvedic centers in the state.
Wildlife Sanctuaries: Kerala is home to several wildlife sanctuaries such as Periyar National Park and Silent Valley National Park, which are home to a wide variety of animals and birds.
Temple and Church: Kerala is home to many ancient temples and churches. Some popular ones include the Sri Padmanabhaswamy Temple in Trivandrum and St. Francis Church in Fort Kochi.
Top adventure activities in Kerala tour package from Bangalore
Kerala, also known as God's Own Country, is a state located in the southwestern region of India. Blessed with natural beauty, picturesque landscapes, and an abundance of flora and fauna, Kerala is a tourist-friendly state in India. With a vast array of adventure activities, visitors can indulge in various exciting activities during their tour from Bangalore.
Here are the top 10 adventure activities in Kerala that you should not miss.
Rafting in Kuttiyadi: The Kuttiyadi River in Kozhikode district is an ultimate spot for rafting. Every year, many people visit this spot with family and friends. The majority of the river area is encircled by dense forests, making the rapids perfect for a thrilling rafting experience during the monsoon season from June to September.
Camping in Munnar: Munnar, a hill station in Kerala, is known for its scenic views of tea plantations, lush greenery, and quaint villages. People visit this place to enjoy camping with family and friends, and it is a popular destination for couples and newlyweds. A camping trip to Munnar is an excellent way to come across serene nature, gaze at the stars, enjoy bonfires, and explore the beautiful nearby places.
Trekking in Chembra Peak: The Chembra Peak, located in Wayanad, is one of the tallest peaks in the region. The trek to the Chembra Peak is a well-known venture among adventure enthusiasts. Although the trek is very challenging, it offers scenic views, and the Wayanad region serves up breathtaking views of the surrounding hills.
Houseboat Cruise in Alleppey: A houseboat cruise on the backwaters of Alleppey is a unique experience that visitors will never forget. The backwaters are a network of canals connected with each other, and lagoons and lakes are also adjoining. These are lined with lush greenery and beautiful coconut trees. Visitors can choose from traditional or luxury houseboats that come equipped with all the modern amenities.
Paragliding in Vagamon: Vagamon, a hill station located in the Idukki district of Kerala, is a well-known place for paragliding. The fine weather and breathtaking views make it a popular destination for thrill-seekers. Visitors can enjoy various thrilling sports while taking in the beauty of the nearby places.
Scuba Diving in Kovalam: Kovalam, a coastal town in Kerala, is home to some of the best scuba diving sites in India. The clear waters of the Arabian Sea are perfect for scuba diving, and visitors can witness amazing marine life, including exotic fish, corals, and other marine animals.
Rock Climbing in Thusharagiri: Thusharagiri, located in Kozhikode, is known for its beautiful waterfalls and lush greenery. People love to take part in rock climbing, although the rocky terrain is very challenging. However, the stunning views from the top make it worth the effort, and visitors can explore many beautiful things in the area.
Kayaking in Periyar: Periyar, a wildlife sanctuary located in Thekkady, is home to a variety of animals and birds. Visitors come to explore and watch these animals and birds. Kayaking on the Periyar River is an ultimate way to explore the sanctuary and enjoy the beauty of nature while paddling along the serene river.
Biking in Wayanad: Wayanad is a beautiful region in Kerala that is perfect for biking enthusiasts. The region is dotted with plantations, coffee estates, and tribal villages. It is an amazing place to explore on a bike, with easy trails and a favourable climate for bikers. You can choose from easy trails to challenging routes, depending on your skill level. Above all, this place is paradise for all those who love to bike.
Similer Kerala tour packages from other top Indian cities
Our Kerala tour packages from Bangalore offer a unique and personalized experience for travelers. Choose from a variety of one-day to ten days trip options, or opt for a three-day package to fully immerse yourself in the beauty of Kerala. Our packages are designed and operated by local tour operators in Kochi, ensuring a authentic and customized itinerary. Whether you are looking for a relaxing beach holiday, cultural exploration or adventure, our Kerala packages have something for everyone. Experience the best of Kerala with our comprehensive tour packages.
Mostly ask Kerala tour package from Bangalore FAQs
What is the best time to visit Kerala?
The best time to visit Kerala is during the winter months from October to March when the weather is pleasant and suitable for outdoor activities.
How do I reach Kerala by air?
Kerala has four international airports: Thiruvananthapuram, Kochi, Kozhikode, and Kannur. Major cities in India and several international destinations have flights to these airports. The average flight time from Delhi to Kochi is approximately 3.5 to 4 hours.
What is the distance between Kochi and Munnar, and how long does it take to reach there by road?
The distance between Kochi and Munnar is approximately 130 kilometers. By road, it takes about 3.5 to 4 hours to reach Munnar from Kochi.
Are houseboat cruises in the Kerala backwaters a popular choice, and what is the average price for a day's cruise?
Yes, houseboat cruises in the backwaters are popular. The average price for a day's houseboat cruise with meals included ranges from INR 7,000 to INR 15,000 for a couple, depending on the type of houseboat and amenities.
Can I explore the Periyar Wildlife Sanctuary in Thekkady, and what is the entry fee?
Yes, you can explore the Periyar Wildlife Sanctuary in Thekkady. As of my last update, the entry fee for Indian nationals was around INR 33 per person, and for foreign nationals, it was around INR 450 per person. Additional fees apply for activities like boating and trekking.
What are the popular beach destinations in Kerala, and how far are they from Kochi by road?
Some popular beach destinations in Kerala include Kovalam, Varkala, and Marari. The distance from Kochi to Kovalam is approximately 215 kilometers (about 5 to 6 hours by road), to Varkala is about 160 kilometers (about 4 to 5 hours by road), and to Marari is approximately 40 kilometers (about 1 to 1.5 hours by road).
Are there trekking opportunities in Wayanad, and what are the approximate trekking costs?
Yes, Wayanad offers excellent trekking opportunities. The cost of guided treks in Wayanad can vary, but you can expect to pay around INR 1,000 to INR 2,000 per person for a day trek, including a guide and permits.
How can I book a Kerala tour package, and what is the average cost for a 5 days tour package for two people?
You can book Kerala tour packages here. The cost of a 5 days tour package for two people can vary widely based on the itinerary, accommodations, and inclusions. On average, it can range from INR 18,000 to INR 40,000 per person.
What is included in a Kerala tour package?
Kerala tour packages include transportation, accommodation, meals, sightseeing, and activities. Some packages also include cultural experiences, such as traditional dance performances and adventure activities.
What is must-try Kerala dishes?
Must-try dishes include Kerala Sadya, Appam with Stew, Malabar Biryani, Karimeen Pollichathu, Puttu and Kadala Curry, Avial, Kozhikode Halwa, and Payasam etc. And Kerala food cost at a local restaurant can range from INR 100 to INR 300 per person.
What is the distance between Alappuzha (Alleppey) and Kumarakom, and how can I travel between these two destinations?
The distance between Alappuzha and Kumarakom is approximately 33 kilometers. You can travel between these destinations by road, and it takes about 1 to 1.5 hours.
What is the price range for eco-friendly resorts or accommodations in Kerala?
Kerala offers eco-friendly resorts and accommodations that focus on sustainability. Prices can vary, but you can expect to pay anywhere from INR 2,000 to INR 10,000 per night, depending on the type of eco-resort and the amenities offered.
Is it safe to travel to Kerala, considering the COVID-19 pandemic?
The safety situation with respect to COVID-19 can change, so it's crucial to stay updated on the latest travel advisories and guidelines issued by health authorities. As of Current update in 2023, Kerala had implemented various safety measures. Travelers should follow the local guidelines and take necessary precautions when planning a trip to Kerala.
Get the best Kerala tour package from Bangalore